Except for Special Events there is NO Deposit
Required to Book-In: ALL Payments are made on the day.
Cash Preferred due to Card Charges & Limited Signal on Site.
Look forward to seeing you soon!
Best Wishes,
R.I.F.T. HQ.
The Bomb Dump
General game site information and rules below. Game days may differ to below and we always advise to read the game information and rules before booking on.
The BOMB DUMP:
Is part art of an Active MOD Site.
It's an old Munitions Storage Area that is PERFECT for all kinds of Airsoft Scenario's!
Team Based Objective Driven Urban & CQB Airsoft!
Multiple buildings, high ground overlooking roadways, natural defenses, blast walls, containers, Radar Tower and Command Center CQB makes this Site rather awesome!
Site Facilities
Concrete Parking Area - YES
Free Battery Charging YES
Toilet - YES
On Site Mini-Shop - YES
Hot & Cold Food & Drink all Day - YES
Undercover Set Up Area - When Required!
(Most players work from their Cars, however, we can use the Command Center Buildings if Heavy Rain dictates)
No Deposit Required to Book-In
Payment made on the day;
Cash Preferred due to Card Charges & Limited Signal on Site.

MEMBERSHIP IS NOT REQUIRED TO BOOK IN AND PLAY!
(You receive £5 off your Game Fee if you ARE a Member!)
---
General Site Info
For RIFT to offer the best experience we ask all customers to arrive within the arrival period, gates are locked and access may not be permitted after gate closure.
Arrival Time: 08:00 - 09:00 (SHARP!!)
Gates Open: 08:00
Gates Close: 09:00

Speed up the sign in process by downloading and completing our disclaimer!
Location Info
Location: Middle Wallop (near Andover), SO20 8DY

Site Address
Army Aviation Centre,
Middle Wallop,
Stockbridge,
Hampshire,
Andover
SO20 8DY

Please follow the RED Arrow to gain ENTRY to the SITE:

Shop and Repairs
At ALL RIFT events we have an on Site Shop that sells EVERYTHING you need!
You can ORDER items in advance and they will bring them to SITE for you!
10% Discount for Rift Members.

On Site Shop:


White Sphere Tactical
Website: https://whitespheretactical.co.uk
Email: jake@whitespheretactical.co.uk
Phone: 07572049491

Airsoft Monkey (TECH & REPAIRS)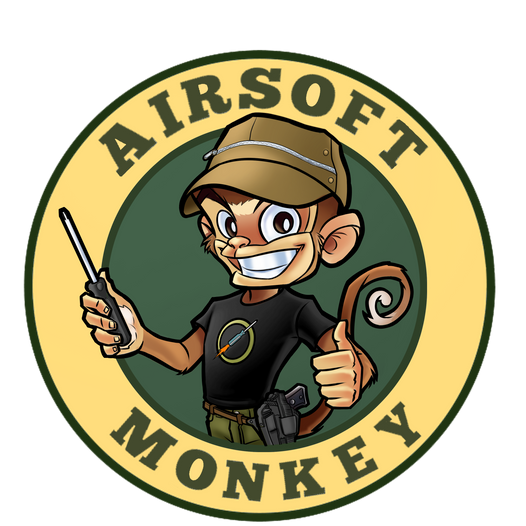 Airsoft Monkey
Website: https://airsoftmonkey.co.uk
Email: phil@airsoftmonkey.co.uk
Phone: 07412615650
General Site Rules
Age Limit
12+
(1 Parent or Guardian will need to remain on Site with any under 18's playing)

Eye Protection & Equipment
Rift Airsoft Highly recommends FULL FACE Protection for all Players.
UNDER 18's MUST WEAR FULL FACE PROTECTION TO COMPLY WITH OUR INSURANCE.
Full Face Protection will be available to borrow if required.
All players who bring their own Eye Protection on Site MUST ensure it can withstand a point-blank impact from a .20g bb @ 500fps.
Long sleave top and long trousers must be worn, along with sturdy footwear that it suitable for outdoor environments.

FPS Limits & Chronograph Check
NOTE: fps limits are tested using a .20g bb to get the BASE fps value.
UK LIMIT on any Airsoft Weapon with FULL AUTO capability is strictly 370fps.

ALL AIRSOFT WEAPONS MUST BE CHECKED ON OUR CHRONOGRAPH BEFORE IT IS USED IN THE GAME AREA.
IT IS THE PLAYERS RESPONSIBILITY TO BRING ALL WEAPONS TO THE CHRONO MARSHAL & ENSURE THEY
COMPLY TO UK & SITE LIMITS.
ANY OVER POWERED WEAPONS WILL BE PROHIBITED FROM USE & IF THERE IS FOUL PLAY
(I.E. THE USER HAS UPGRADED IT TO GAIN ADVANTAGE OR CAUSE INJURY)
THE PLAYER WILL BE BANNED FROM SITE & REPORTED.

A CHRONO CHECK LIST IS IN PLACE - PLEASE ENSURE YOUR NAME & RIF's ARE CHECKED.
**\ R.I.F.T. AIRSOFT reserves the rights to random check any RIF in the Game area at any time /**

Pistols:
Spring, Co2 or Gas - not to exceed 350fps
(Co2 Weapons: Please insert a NEW Gas Bulb so we can Chrono it at its highest point - thank you)
Shotguns:
Spring, Co2 or Gas, single or Multishot - not to exceed 350fps

Electric or Gas Assault Weapon:
350 FPS - Full Auto allowed at range - Single Shot when close.
Maximum of a 2 Second Burst when using full auto.

HPA Weapon Systems.
HPA RIF's are welcome but must remain locked to the correct FPS limit for that particular Weapon type.
HPA Weapons must have a tournament style lock to prevent the ease of power increase.

Support Weapons:
MAX 370 FPS - 20 Meter Minimum Engagement Distance (MED).
Support Weapons Firing between 350-370 FPS must adhere to 20 Meter engagement rule & may use a 4 second burst, with the bi-pod deployed, firing from a static fixed position.
A Support Gunner may use a 2 second burst when they are moving from one position to another.
Side arm/smg required for CQB.
---
Support Weapons Firing 350 fps and below may engage at close range, however, we will ask that you do NOT fire Full Auto point blank at another player.
4 Second Burst allowed as long as the Bi-Pod is deployed and the weapon is being fired from a static fixed position.

Rate of Fire:
If you have a very high rate of fire, please keep to a ONE second burst when fired Fully Automatic to AVOID OVERKILL...

DMR - Semi Auto Only (designated marksman rifle)
DMR's must be physically SEMI-AUTO LOCKED.
If it it has FULL AUTO Capability is cannot be upgraded to a DMR.
Maximum 500fps 30 Meter Minimum Engagement Distance (MED)
STRICT 2/3 Second delay between shots / wait until the first shot has landed before firing again.
(typical battery operated Semi Auto Weapon) - side arm/smg recommended for CQB.

Sniper / Bolt Action:
Maximum 500fps - 30 Meter Minimum Engagement Distance (MED)
(typical long range Sniper) - side arm/smg recommended for CQB.
Joule limits:
Generic RIF; Full auto allowed = 1.13 joules (NO minimum engagement)
Support Weapon, Full Auto allowed = 1.27 joules (20 minimum engagement)
Single shot only = 2.32 joules (30 minimum engagement)
Moscart Launchers:
NO Point Blank Shots.
NO Aiming for the HEAD.
NO TAG ROUNDS - NO "40 MIKE" or Master MIKES

NO MORTARS or RIOT Shields (unless cleared in advance)
NO DRONES / RC devices.
We allow all Airsoft weapons on Site as long as they are strictly in line with UK LAW.
NO DRY FIRING OR TESTING YOUR WEAPONS
AT ANY TIME IN THE CAR PARK OR SAFE ZONE.
Please use the shooting range provided.
KEEP ALL WEAPONS COVERED & SECURED
WHEN TRANSPORTING THEM TO & FROM THE SITE
Airsoft Guns ONLY - *No 4.5mm "BB" Airguns*
Quality .20g (and above) 6mm bb's allowed.
*No Cheap low quality bb's & No Metal or Glass bb's*
Lasers/Torches/Strobes
We allow the use of Hobby Lasers up to Class III/3r (Red or Green)
It is strictly forbidden to directly aim the Laser towards players eyes.
Lasers are to be used to intimidate and mark targets.
Torches can be attached to RIF's, body or held.
(Not left on a shelf to trick players you are there!)
Strobes are allowed, however, some players might be
photosensitive, so ask before use.

Pyrotechnic & Blank Fire Grenades (18+)
Only UK approved pyro/smokes are permitted on site.
Pyro (flashBangs & smokes) are to be used by 18's and over.
Mk5 Pyro permitted @ 120 Decibels (nothing louder please)
All UK Legal Pyro and 9mm/12gauge BFG's are allowed.
Tripwires/Mines/Boobytraps are allowed.
All Grenades have an invisible "kill radius" of 5 Meters.
A "NO RUN from GRENADE" RULE is in place. (adds to the excitement!)
FOR SAFETY REASONS, ALL PARTICPANTS WILL NEED
TO UNDERSTAND & COMMUNICATE USING THE ENGLISH
LANGUAGE. Thank you.

A Full Safety Brief will be held before the Games begin!
There are no scheduled future games, we add new games monthly! check back soon.
Our Other Sites
Com's Site 3
EX-RAF Site. Buildings, Bunkers, Brick Trenches, Tarmac Roads and Open Land, all covered in Natural Woodland!
Location: Chipping Warden (near Banbury), OX17 1LZ
Next Game Day: No Plans
The RIDGE
Old Clay Quarry: 40 Acres of Huge slopes, rolling hills, steep terrain with Woodland and dense scrub. Ideal for Snipers, Assault Rifles, Shotguns and Side Arms!
Location: Barton Le Clay (near Luton), MK45 4LG
Next Game Day: No Plans
REDCON-2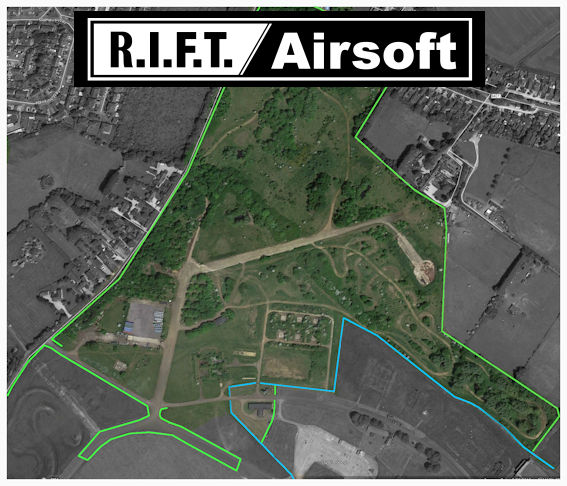 MOD Land: Large Site, Mixed terrain, Buildings, Cabins, Tank Graveyard, Indoor Facilities, Concrete Parking + more!
Location: Abingdon Oxfordshire, OX13 6BX
Next Game Day: Sun 01 Oct
"The Battery" CQB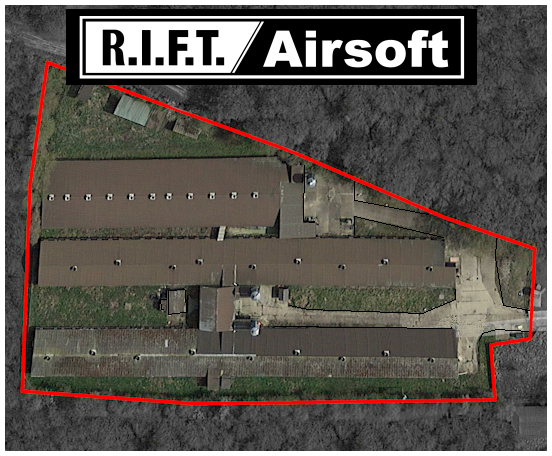 Awesome CQB "all weather" Airsoft Site with indoor & outdoor areas!
Location: Gallows Green Road, Great Dunmow, Essex, CM6 3QS
Next Game Day: Sun 01 Oct